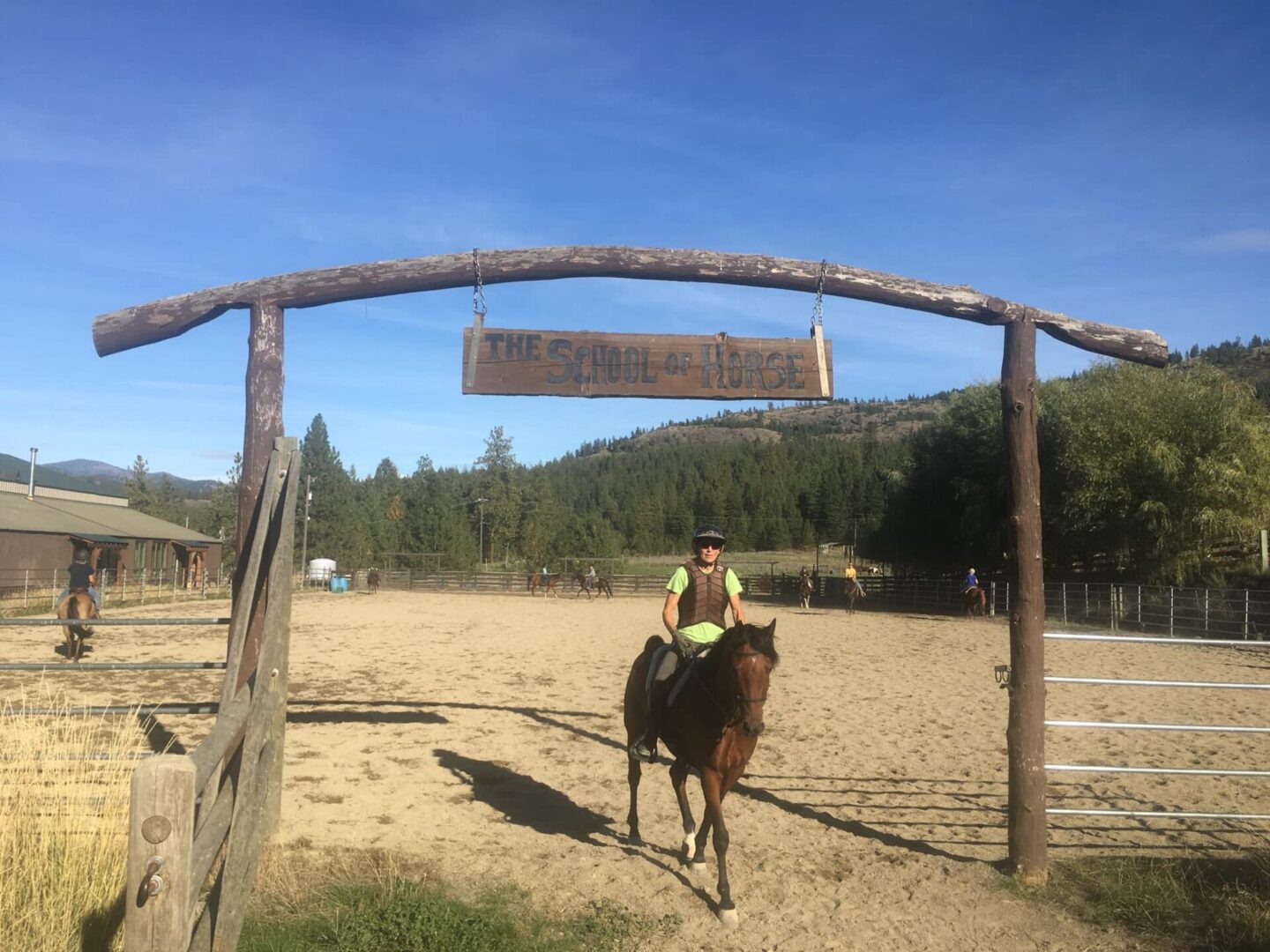 School of Horse 5-Day Camp – Horse Creek Ranch
Come join us at Horse Creek Ranch for a complete immersion into horsemanship. This fun and educational camp is a learning event of a lifetime.  Horse Creek Ranch will be your home for at least 5 days as Steve leads you to a higher level of understanding and communication with your horse.  The things that you learn during your stay at the ranch will permanently change the way that you handle horses, in a positive way. This is a small group atmosphere that will ensure lots of personal instruction from Steve.
Some, but definitely not all, of the things you will learn are:
The confidence to overcome fears.
Tools to keep your horse calm, curious, and respectful.
Feel and timing to increase your horse's "try".
Common mistakes of both the horse and rider.
How to think from a horse's point of view.
What to do when your horse does the unexpected.
How to accomplish incredible things with your horse.
Key exercises to unlock your horse's potential.
Exercises to correct your horse's bad habits.
At the end of the camp, you will head home with new and exciting concepts of how to communicate with your horse and how to give them purpose; allowing you to continue to build a relationship based on respect and understanding.
Horse Creek Ranch was created in order to provide a much greater learning experience for riders from all over the world. Here at the ranch we are able to immerse people and horses in a way that is much more related to real life and real situations.  By doing this we are able to produce a much deeper and more effective relationship between horse and rider.
Horse Creek Ranch is located in NE Washington, about 1.5 hours NW of Spokane. At the ranch we provide both indoor and outdoor arenas and round pens, corrals and stalls for guest horses, extreme trail courses, creeks, ponds, a lake, waterfall, mountain and open pasture riding, leased horses, and cattle.  Groups are kept to a minimum in order to ensure plenty of one-on-one instruction and a peaceful stay at the ranch.
Tuition:
Non-Club Member Price: $1,800
Club Member Price: $1,440 (save 20%)
Tuition for the 5 days includes dinner each day and a stall/paddock for your horse.
Hay is available for $10 per day.
A club membership fee is only $149 USD for the year, see the other bonuses and become a member at www.HorseTeacherU.com
Accommodations:
We offer rooms for rent in our fully furnished bunkhouse. We also have cabins or there is R.V. parking available.  There is a full bathroom available for campers on the ranch.  All accommodations are first-come-first-serve based on camp registration, so make sure to contact us early if you will require one of our cabins.
Bunkhouse: $50/bed/night
Cabins: $45/night
R.V. Parking: $10/night
You should arrive the evening prior to the start date and can depart the morning after the last day.
Leasing a Horse Creek Ranch Horse:
If you do not have a horse to bring, we do have horses for lease at a rate of $500 per week ($400 for Club Members). These horses are trained in the basics of our program and will allow you to fully enjoy your learning experience.  To lease a horse, you must already be comfortable at a walk, trot, and lope (outside of an arena) on a loose rein.  Leasing includes the use of all tack.
Spectators:
Sorry but spectators are not permitted at the ranch as camps are designed for participants (spectators are welcome at Steve Rother Clinics).