Clinics
Steve is one of the most sought-after instructors in the horse industry. Traveling all over the US and Canada, he has helped thousands of horses and riders develop more willing partnerships.  His methods and teaching style are unique and produce instant results.  Whether to overcome fears, or gain more control, participants will leave the clinic empowered and more excited about reaching their horsemanship goals.
Many people ask if Steve's methods work on warmbloods, gaited horses, Arabians, ponies, draft horses, barrel racers, jumpers, sport horses, dressage horses, etc.  Steve's methods are for any breed of horse and any discipline.  No matter how old your horse is, or how long you've owned it, and no matter what you like to do with your horse: if you put in the effort, you will accomplish your goals with Steve's methods.
Owning a horse is not just going for a ride; it's a commitment to yourself and another living being.  One that depends on you for leadership, care, and comfort.  Every time you are around your horse, you are teaching them something.  Are they the things that you want them to learn?
RIDERS RECEIVE LOTS OF INDIVIDUAL ATTENTION!
Each clinic is tailored to the participants who are attending.
You will find Steve friendly, easy to approach, knowledgeable, and ready to help you with anything during the clinic.  You will receive both group and one-on-one instruction.  Participants will receive as much help as they need whenever they need it.
NOTHING BEATS LIVE, STEP-BY-STEP INSTRUCTION!
Steve Rother's Horsemanship Clinics cover all of the curricula in his Groundwork and Horsemanship DVDs, as well as anything else you might want to learn.  By coming to a clinic, your learning is greatly amplified.  You will receive immediate feedback directly from Steve on what is being done correctly or incorrectly, and what variations (considering your horse's personality) will help you get better results.
We offer two-day, three-day, and four-day clinics.  Each clinic has a local host who can answer all your questions.  Check out the locations in our tour schedule to find host contact information.
*Clinics are either 2, 3, or 4 days.
Please check the schedule for details.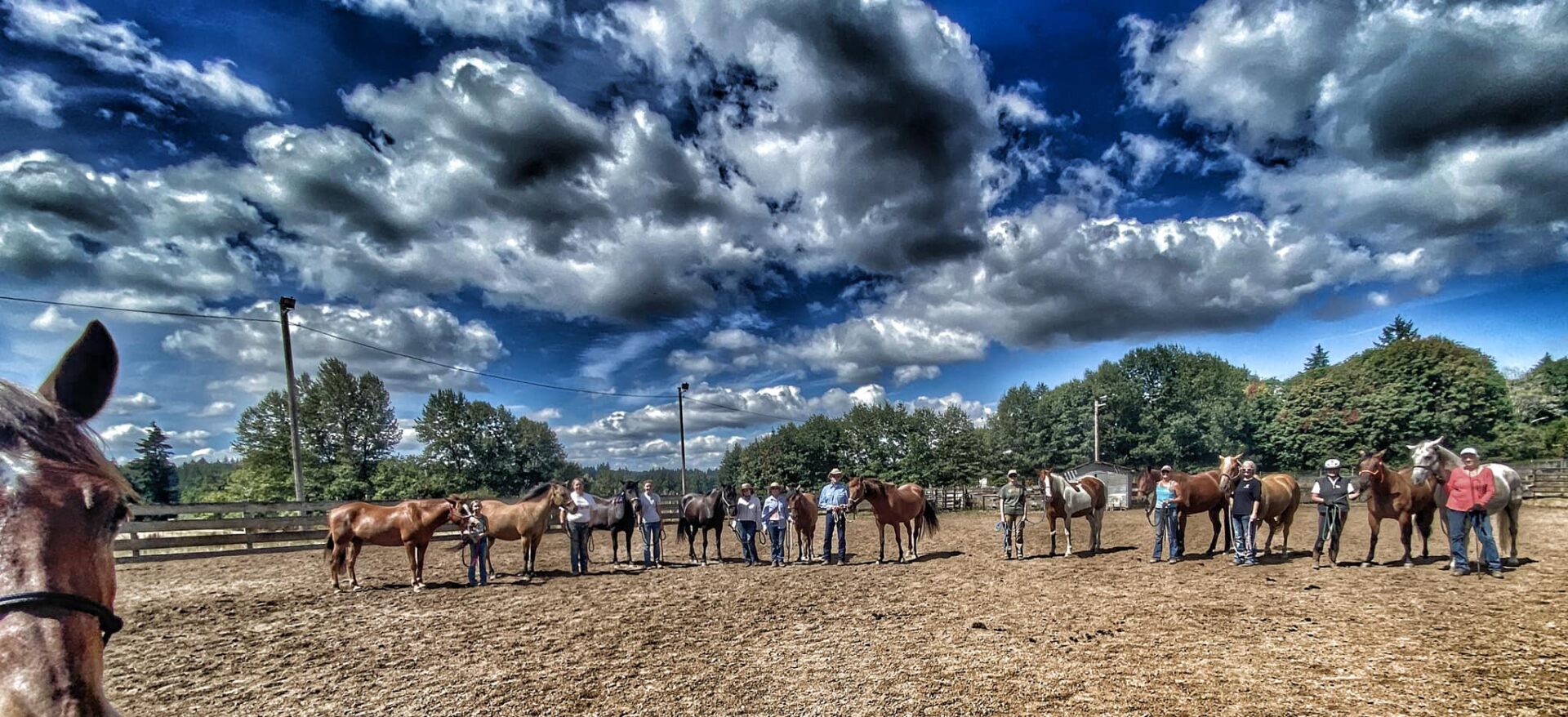 | | | | |
| --- | --- | --- | --- |
| 2 Day Clinic | $500 | $375 | $125 |
| 3 Day Clinic | $675 | $505 | $170 |
| 4 Day Clinic | $800 | $600 | $200 |
| Colt Starting | $800 | $600 | $200 |
Canadian clinic fees will be charged in USD or converted using the daily exchange rate.
2023 Horsemanship Clinics
February 10-12: Bend, Oregon
April 21-24: Bend, Oregon
May 12-14: Goldendale, Washington
May 27-30: Wasilla, Alaska
July 1-4: Bend, Oregon
July 13-16: Cle Elum, Washington
July 17-19: Cle Elum, Washington
July 28-30: Silverdale, Washington
August 11-13: Ellensburg, Washington
August 18-20: Goldendale, Washington
September 1-4: Wasilla, Alaska
September 16-18: Nampa, Idaho
September 29-October 1: Pasco, Washington
October 6-8: Richland, Washington
October 13-16: Bend, Oregon
November 10-12: Elma, Washington
June 10-13: Waterton Park, Alberta
July 7-10: Williamstown, Ontario
July 21-23: Chilliwack, British Columbia