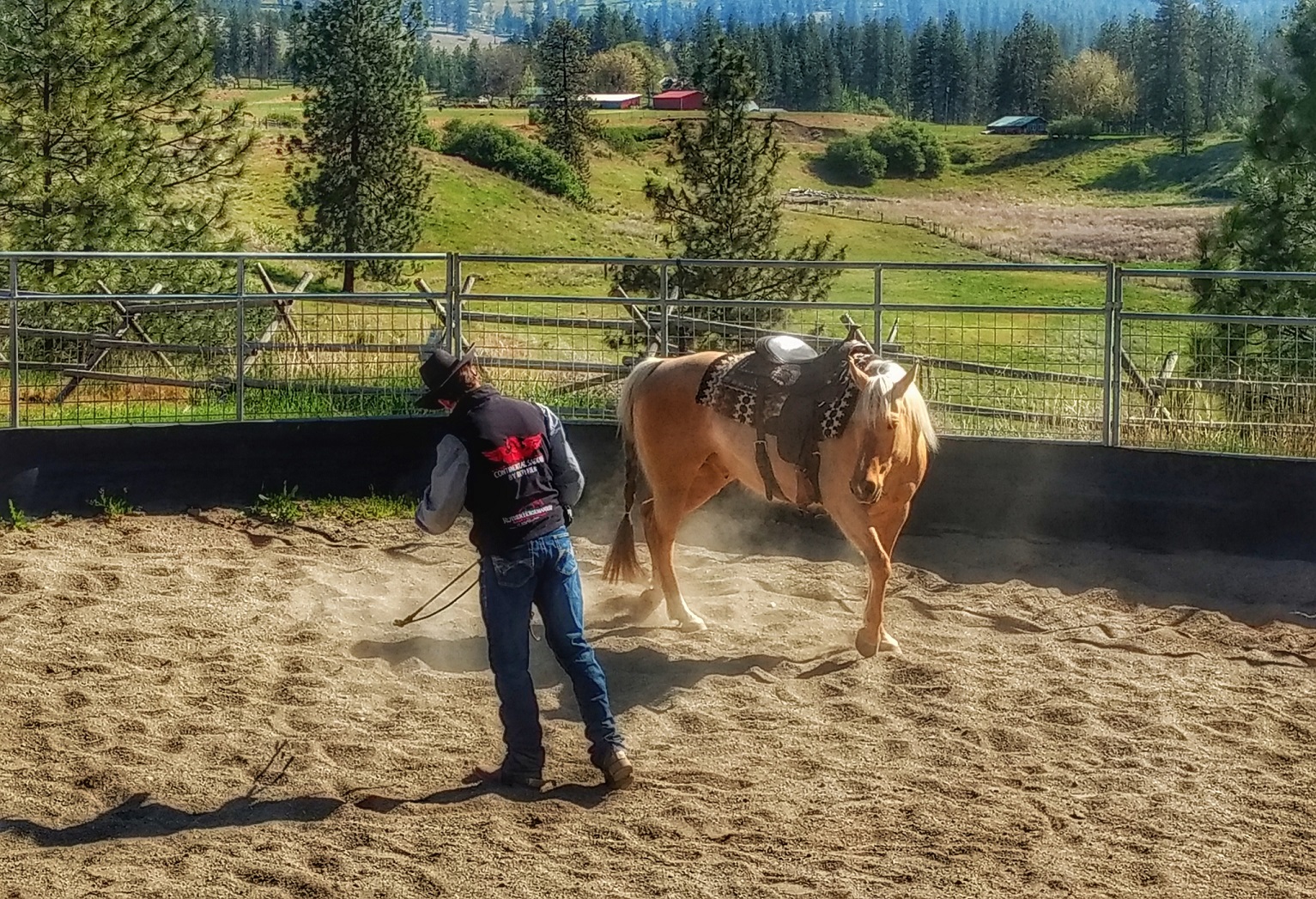 5-Day Liberty Camp – Horse Creek Ranch, Hunters, WA
This 5-day camp offers the opportunity to work at liberty with your horse as well as ride and practice horsemanship if you choose.  Campers can bring up to 2 horses (1 for liberty and 1 to ride) or just bring 1 horse to use for both!  An additional pen fee of $100 will be required for the second horse.
This camp has been an extremely popular event and is usually one of the first to fill; so, if you're interested, be sure to reserve your spot early!
Liberty training can be very difficult to attain; however, it is one of the most valuable and connected tools you will have with your horse.  There are many different styles of liberty available and we teach one that truly works (don't believe us….go back and watch videos from our previous liberty camps). 😉
Steve has been practicing and performing at liberty with his horses for decades.  His horses have performed in a variety of environments, which normally poses the most difficulties for people.  The common quote we here from people is "my horse was good at home?".
Do you want to learn how to become that true leader that your horse is seeking?
Come join us at Horse Creek Ranch and immerse yourself for 5 days of liberty focused training.
We try to limit this camp to no more than 10 people and spectators are not permitted.  Our liberty camps are also currently ONLY offered at the ranch.
We will be working with you one-on-one to help you achieve a true liberty relationship with your horse; and you will learn the key foundation exercises and concepts that most people never learn when working with their horses at liberty.
ACCOMMODATIONS
We offer rooms for rent in our fully furnished Bunkhouse, Cabins, or R.V. Parking.  All accommodations are reserved on a first-come-first-serve basis, so make sure to contact us early if you know that you will require one of our cabins.
Fully Furnished Bunkhouse- $50 per bed/night
Cabins – $45/night
R.V. Parking – $10/night
There is a full bathroom available for campers on the ranch
Spectators:
Sorry but spectators are not permitted at the ranch as camps are designed for participants (spectators are welcome at Steve Rother Clinics).